Brawlhalla is a FREE 2D platform fighting game for PC, PS4, Switch and Xbox, where legends battle each other in an eternal tournament of champions— Brawlhalla features a unique 2-weapon and unique signatures attacks per legend system and the combat is similar to Super Smash Bros. from Nintendo.
Brawlhalla Battle Pass – Brawlhalla all the infos are here.
It has a lot for us: new weapons, new characters, nes skins.
The Exalted Lion Battle Pass Season 4 – Patch 5.10 – Brawlhalla
The fall of the Order of the Exalted Lion has taken over Valhalla in the newest Battle Pass season! Soulbound Diana has taken to the magic powers of Helheim to exact revenge on the powerful Octavius Mordex. This fourth season of Brawlhalla's Battle Pass features 85 tiers of brand new exclusive content unlockable by playing Brawlhalla and completing missions.
All players are automatically granted access to the Battle Pass track and Weekly Missions with an option to purchase the Gold track for numerous extra rewards. More details about the Battle Pass can be found below or at brawlhalla.com/battlepass.
This Battle Pass also brings two new Maps for FFA and 1v1 queues and a new Brawl of the Week called Ghosts in the Fortress! We also graduated the Smoke Trails visual effect out of Test Features.
Brawlhalla Battle Pass Season 4 Brings The Order Of The Exalted Lion To Valhalla – MMO Bomb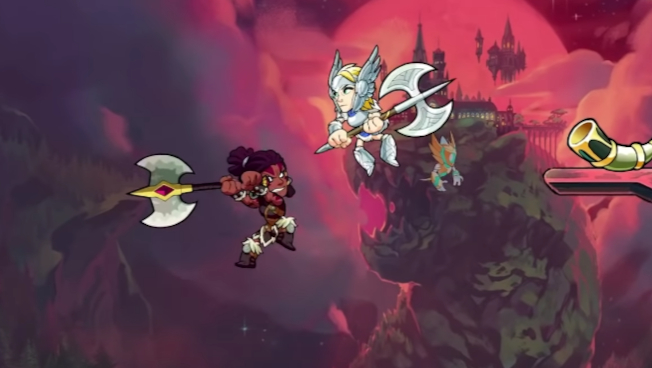 Brawlhalla kicked off a new battle pass season today introducing the Order of the Exalted Lion — a fallen order ready to seek revenge against the one who destroyed it, Octavius Mordex. This is Brawlhalla's fourth battle pass season, and it features 85 levels of new content that can be obtained by completing missions. As always, the base pass is open to everyone with a Gold track including even more rewards available for a fee.
Among the rewards featured in this battle pass are skins for Azoth, Cross, and Queen Nai, an Epic Skin for Diana, Progression Skin for Mordex, as well as a new battle pass title. To earn these items, players will need to take on the new daily, weekly, and general missions available during the season. Completing these missions will earn players Battle Gems that are used to measure progress through reward tiers. There are more than 100 rewards to be earned.
This Battle Pass also features:
A free track extending through all 12 weeks of the Battle Pass.
A purchasable Gold Track with a bunch of additional exclusive rewards like a new Progression Podium.
All players having access to all the Weekly Missions!
A new exclusive Battle Pass Title Reward!
A new UI takeover featuring an animated splash art of Octavius Mordex and Soulbound Diana.
New main menu, character select, and post-game theme music matching the score of the Order.
Two new Maps for Free-for-All and 1v1 queues.
A new Brawl of the Week called Ghosts in the Fortress that features the new Map, Fortress of the Lions!
For any completionist out there, a special Avatar awaits you if you complete all 85 tiers.
Players can also unlock the Gold track to immediately unlock some exclusive items, like the newest Progression Skin and Podium.
Unlocking the Gold track grants access to a tremendous amount of additional exclusive items and also contains boosters to unlock rewards even faster.Gold Track rewards include the Octavius Mordex Progression Skin, Soulbound Diana Epic Skin, Mammoth Coins, Animated Avatars, and a whole lot more.
Battle Gems are earned by completing missions in matchmaking games except for Brawl of the Week.
Players can get even more Battle Gems just by playing Brawlhalla. Any matchmaking game rewards Battle Pass XP that advances the "Earn Battle Pass XP" mission.Completing the mission gives players Gems and a new more challenging "Earn Battle Pass XP" mission.